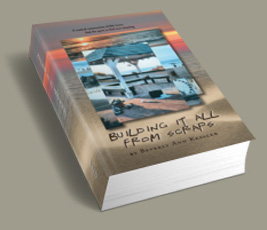 To chase, to embrace, and to savor the deepest passions of her heart, a quirky carpenter's daughter builds her social work career - and fills the emptiness she has long known - by captivating the love of her life - Carolyn. But Jordan Mathews' success is short-lived, as her career evolves into an outrageous battle of office politics, where no good deed seems to go unpunished - and where only the power of love survives.
A vibrant and playful celebration of gay pride, Building It All From Scraps is a campy fiction that blends love, relationships, friendships and family, with an understanding of gay culture and history. Set at the Jersey Shore in the 1970's and 1980's, the story shares the transformation of a shy and ambiguous girl to a professional gay woman, and pits wants vs. expectations, needs vs. loyalties, in this comical construction of life's loves, and the quest to find true meaning.
The author includes a variety of articles about prominent social issues — and especially, those affecting gay people - at the end of the book. These condensed, professional, yet easy-to-understand articles form a reference section that serves as a political history and social commentary for gay people everywhere. But you don't need to use the reference section to enjoy this amusing story about life, and love, fulfilled.
A tale that revels in the clash of the sexual revolution, balancing disco community and true love with family life and working class values, Building It All from Scraps is a humorous and solidifying testimonial to all gay people, an educational and informative book for all human service workers, and a great piece of philosophical entertainment for those who are neither. And it lets us know, at the end of the day, that we are all the same.